British fair play used to be a standard all Britons felt they could be measured by. Letting someone speak for themselves, a right to reply and the presumption of innocence all, defined the British sense of fair play, more so than the Stiff Upper Lip or, any other cultural stereotype.  The most universal cultural ideal up for "Cultural appropriation" would arguably be the British Sense of Fairplay, followed by irony and self-effacement.
So what are we to make of the "Corbin" turn in our discourse about The leader of her majesties loyal opposition.
Following headlines screaming Corbyn car crash interview on Andrew Neal and other breathless condemnations in line with the Corbin Headlined litany of betrayals and Calumnies of this rather self-effacing Geography teacheresque pin-up.
Paxman took the laurels in 2017 for me describing Theresa May as a Colouring in Graduate and Corbyn as a moth-eaten Geography teacher, its an image once imagined, that is hard to remove.
Paxman Described Corbyn and May in these unflattering terms during the snap election, In the Case of Mrs May the image of her Colouring the missing F which F´d off during her speech and the Scarpering e Which gave up the Ghost as the stricken PM fought back sobs at the end of the Awful Hacking speech.
https://www.ft.com/content/b1882fb2-46b9-11e7-8d27-59b4dd6296b8?mhq5j=e6I interviewed both Mrs May and Mr Corbyn this week. In manner they resembled a nervous geography student and an ageing geography teacher. The odd thing is that Mrs May is a former student of geography (or "colouring in", as it was known to other Oxford students). She now dresses in the style of a Maidenhead matron on her way to a Tory wine-and-cheese evening. She looks nervy on television. Mr Corbyn's academic career ended when he dropped out of a course in trade union studies at North London Poly. He retains the style of his lecturers and goes into avuncular mode when questioned.

Paxman's sharp tongue has lashed the Bullingdon Smoothe talking Brino Bar Steward rather a lot.
See.
In 2017 I made this adaption of the Michael Moore trump eulogy, ( Intended as Ironic but which I think won Trump the Presidency), in his Moore in Trump land show.   The Establishment is still trying to restore the process back to the Show Pony Karaoke politics, pre-Corbyn, Trump, Brexit and Russian Cyber interference and Fake News you can belive in turn which they so clearly miscalculated and still continue to misunderstand.
Michael Moore #MAGA Speech Joe Blo Biggest FU in history Speech https://t.co/oeoSPnFxv1 #BitChute

— Wiki_Ballot (@wiki_ballot) November 27, 2019
Would the real Jeremy Corbyn please stand up.
There is an Old Peter sellers Film, Being There, In it Sellers plays Chauncey Gardner, a simple fellow who is found in the House of a recently passed away Rich employer, he is the Gardner at the property and by a series of coincidences Gardner ends up as the advisor to the President of the USA.
Jeremy Corbyn is a Keen Gardner and he too is perhaps part of a larger plan being hatched by the Global establishment. Are we to believe that Jeremy Corbyn is the Human equivalent of 9/11 defeating the most controlled and narrative-driven period of political manipulations for the past 100 years?
9/11 A Conspiracy Theory (Corbett Report) #GrubStreetJournal #Wiki_Ballot https://www.bitchute.com/video/4oO1Gd2Ld3Yh/ …

Tonefreqhz

9/11 A Conspiracy Theory (Corbett Report) #GrubStreetJournal #Wiki_Ballot

bitchute.com
Two recent open goals have been presented to Mr Corbyns Labour Party, The Waspi's and now the unredacted NHS negotiations wrapped up in the US Trade deal negotiations. The Establishment wants Mr Corbyns Labour to do well but not that well, after all, they have some re warmed Brino to serve up to the unsuspecting British electorate and Mr Johnson, BoJo the clown, is the Specially selected Bar Steward anointed with the task of forcing that tipple down the electorates Throat. Meanwhile to keep things plausibly close but not too close, Mr Farage will be enlightening the British Public Just enough on the Aspects of EU Military Union that it is planned will again keep the House of Commons as such composition that it will remain biddable to the establishments designs but not Honest in the sense of what is in the best interests of the British Public. Of course, the Establishments wish to saddle us with one of its Brightest and best In the One trick pony show of the NWO reality-based community chest, say a David Milliband, a Jeremy Hunt or a Chucka Ummana, all Rhodes Sholarshiped and Erasmus awarded up or all Allbright and beautiful like a Bill Clinton, an early model or a Jimmy Carter? Tony Blair/Cameron/Maywitch project, anyone? They have succeeded with this in Canada with Trudeau and France with Macron, what is it with french Speaking electorates and Election Rigging. It remains to be seen how the Establishment will seek to put one of their Show Ponies back into the Whitehouse, tune in for next years special instalment.
Pre Match Build-Up.
Jeremy Corbyn even Stepford Corbyn is something of a George Best of Political Campaigning, and of course Best Nemesis Chopper Harris, in our metaphor for playing the man and not the ball, Stands in for the Presstitute hoards of stay in your lane stenography "Journalism",
The Narrative is what one needs to discern reading this game is all about watching who is running off the ball, where are the spaces into which the attacks might flow and where are the man on man markers going and who has Jezzer by the Balls in a Vinnie jones like grip.
The Kick-Off, and First Half.
Posted at 8:28 21 Nov8:28 21 Nov
A man – and his plan

d86c5d6a-64d7-4161-a41b-cd4b12f414a2.jpg
Jeremy Corbyn
Daily Mirror
✔@DailyMirror
Tomorrow's front page: Labour's manifesto: on your side https://www.mirror.co.uk/news/politics/10-things-you-need-know-20931720 … #TomorrowsPaperToday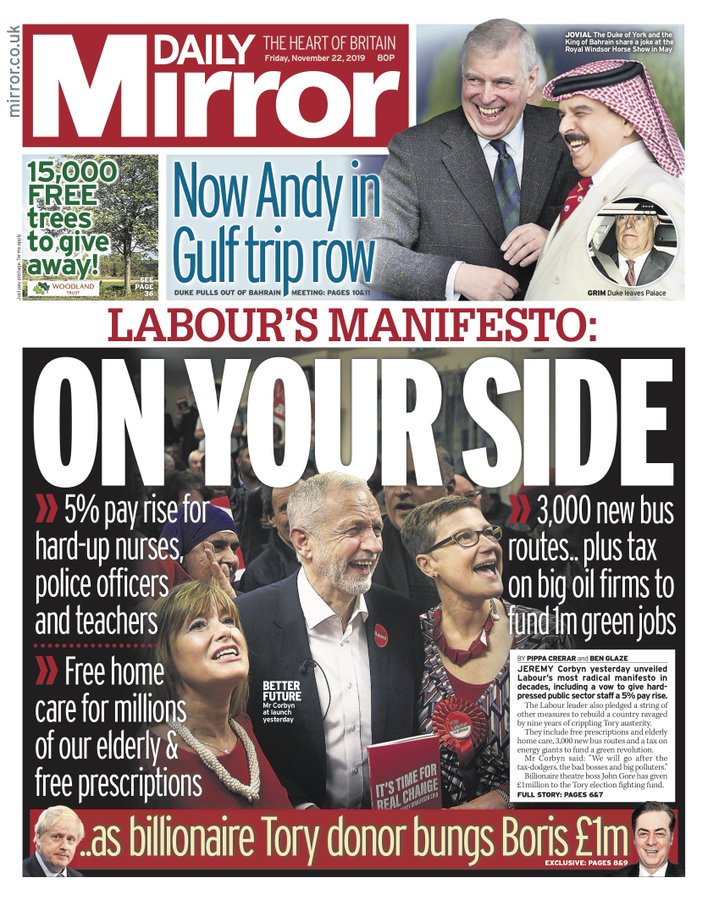 Labour's plan would be 'a decisive shift'
Faisal Islam
BBC Economics Editor
The other parties are offering some of the same message – use the ability of the government to borrow cheaply to invest hundreds of billions in a green future, although Labour has pushed this more than twice as far as the rest.
It is a decisive shift of Britain to a big state, taxing big business more – like continental Europe.
It raises reasonable questions about whether we can afford this.
Labour's answer? We can't afford not to and only a very active government can reshape the economy to change the fate of the country, in particular, to meet what it calls a c
Hat Tip To Dek Childs.Footie Analogies beloved of the Aston Villa supporting Show pony, David Cameron.
A Freind Made this Analogy I think it is a good won of Why Corbyn Will be rightfully pleased.
Politics, it's a funny old game.
Here's a different take on what's going on at the moment.
Football is our national game and lots of people are passionate about it. So I'll use those terms I've seen a lot of people who are confused about people being up on a Labour loss.
Labour has not had a good showing in elections for years, so this election where it was very close,(3%, closer than Brexit) is akin to a 3rd division side getting promotion and getting to the cup final and putting a scare into say Chelsea or Man Utd. Not a win but a fantastic result.Everyone cheering on the team and the manager. what a great job.
On the other hand, the Conservatives did very badly. Imagine being top of the league, in the cup, looking to have a strong showing in Europe and then mid-season, the manager changes tactics, the team has a string of defeats, out of the cup, out of Europe and in danger of relegation, now reliant on other teams to stay up. If that was your team, as supporters, you would be furious, rightfully so and calling for the manager's sacking and immediate replacement.
So, that being said, where are all the furious Tory voters baying for the sacking of the PM?
49:15
think the person I most in the world at
49:18
the present time is the general
49:19
secretary Guterres, he is
49:21
trying to bring the world together okay
Stepford Corbyn.
They say you can tell a lot about a man by the company he keeps and those they admire,
By the Sun's "Corbin" Standard, this would not be a promising start, but if we think about Bernie Saunders, a similarly abused stalking horse from the 2016 Democratic primaries in the states. This comes to mind.
During the debate, Sanders declared, "I am dangerous for Wall Street," to thunderous applause. A high-point in a debate that Sanders easily carried.
Watch.
Top Tweeted moment for #DemDebate: Sanders: "I am dangerous for Wall Street"; Twitter reacts to Benghazi question
So let's look at Guterres and his political sparring partner, a curious double act and some curious themes emerge.
António Manuel de Oliveira Guterres GCC GCL (/ɡʊˈtɛrəs/; European Portuguese: [ɐ̃ˈtɔnju ɡuˈtɛʁɨʃ]; born 30 April 1949) is a Portuguese politician and diplomat who is serving as the ninth Secretary-General of the United Nations. Previously, he was the United Nations High Commissioner for Refugees between 2005 and 2015.[1]
Guterres was the Prime Minister of Portugal from 1995 to 2002 and was the Secretary-General of the Socialist Party from 1992 to 2002. He served as President of the Socialist International from 1999 to 2005.
In both a 2012 and 2014 poll, the Portuguese public ranked him as the best Prime Minister of the previous 30 years.[2][3]
President of Socialist International
[
edit
]
Guterres was elected President of Socialist International in November 1999,[22] thus overlapping with his second term as Prime Minister of Portugal until his resignation from the latter post in December 2001. He remained President of the Socialist International until June 2005.[22]
First term (1995–99)
[
edit
]
With a style markedly different from that of his predecessor, and based on dialogue and discussion with all sections of society, Guterres was a popular prime minister in the first years of his office. Portugal was enjoying a solid economic expansion which allowed the Socialists to reduce budget deficits while increasing welfare spending and creating new conditional cash transfer programs.[15] His government also accelerated the program of privatizations which had been undertaken by Cavaco Silva's government: a total of 29 companies were privatized between 1996 and 1999, with proceeds from privatizations in 1996-7 being greater than those of the previous six years, and the public sector's share of GDP being halved from 11 percent in 1994 to 5.5 percent five years later. Share ownership was also widened, with 800,000 people investing in Portugal Telecom upon its privatization in 1996 and 750,000 applying for shares in Electricidade de Portugal.[9]
In 1998, Guterres presided over Expo 98 in Lisbon, commemorating the 500th anniversary of the voyage of Vasco da Gama.[16] Also in 1998, two nationwide referenda were held. The first one was held in June, and asked the voters whether abortion rules should be liberalized. The Socialist Party split over the issue of liberalization, and Guterres himself led the pro-life side, which eventually won the referendum.[15] A second referendum was held in November, this time over the regionalization of the mainland. In this referendum, both Guterres and his party supported the approval of such an administrative reform. In this second referendum, Guterres suffered a political defeat, as the proposal was rejected by the voters.
Contrary to his party stance and following the removal of homosexuality from the list of mental illnesses by the World Health Organization in 1990, Guterres said, in 1995, that "he did not like homosexuality" and that he considered it "something that bothered him".[17]
On foreign policy, Guterres campaigned for United Nations intervention in East Timor in 1999, after the former Portuguese colony was virtually destroyed by Indonesian-backed militias when it voted for independence.[8] He also finalized the 12-year-long negotiations on the transfer of sovereignty over Macau, which had been a Portuguese colony, to Chinese control in 1999.[18]
Second term (1999–2002)
[
edit
]
In the 1999 parliamentary election the Socialist Party and the opposition won exactly the same number of MPs (115). Guterres was re-appointed for the office and from January to July 2000, occupied the six-month rotating presidency of the European Council. This second term in government was not as successful, however. Internal party conflicts along with a slowdown in economic growth and the Hintze Ribeiro Bridge disaster damaged his authority and popularity. Nevertheless, some long-lasting measures were taken during his second term: in October 2000, the Parliament approved the decriminalization of drug use (effective from 1 July 2001)[19] and in March 2001, same-sex civil unions were legalized.[18][20]
In December 2001, following a disastrous defeat for the Socialist Party in local elections, Guterres resigned[13] to "prevent the country from falling into a political swamp".[21] President Jorge Sampaio dissolved Parliament and called for elections. Eduardo Ferro Rodrigues, until then Minister for Social Security, assumed the Socialist Party leadership, but the general election was lost to the Social Democratic Party of José Manuel Durão Barroso, who would later become President of the European Commission.
Casa Pia child sexual abuse scandal
Jump to navigationJump to search
The Casa Pia child sexual abuse scandal was a case of child sexual abuses involving a number of children and employees at Casa Pia, a Portuguese state-run institution for the education and support of poor children and under-age orphans.[1] Portuguese Judiciary Police (Polícia Judiciária) officials estimate that more than 100 boys and girls[1] of the 4,600 pupils enrolled in Casa Pia at the time, including some deaf and mute, may have been sexually abused throughout several decades. The scandal involved several prominent men, including TV presenter Carlos Cruz, former Casa Pia governor Manuel Abrantes, and former UNESCO ambassador Jorge Ritto.[2] The trial is one of the longest running in Portuguese history, lasting more than five years, with testimony from more than 800 witnesses and experts.[3]
On 3 September 2010, Carlos Cruz, Carlos Silvino, Hugo Marçal, Manuel Abrantes, Ferreira Diniz and Jorge Ritto were convicted and sentenced to up to eighteen years in prison due to crimes occurring in the late 1990s and early 2000s. This was the first time an institutional sex abuse scandal had been taken to court in Portugal.
First revelations
[
edit
]
Portuguese Judiciary Police (Polícia Judiciária) first accused the caretaker of a Casa Pia state-run children's home in 1981 of raping dozens of children over a period of 30 years, even though some reports of abuse pre-date the 1974 Carnation Revolution. Police accused the perpetrators of supplying children to men from Portugal and other countries, including to some prominent public figures in Portugal.[1] However, these early allegations did not result in any legal action.
The Prime Minister at the time, José Manuel Durão Barroso, whose Social Democratic Party ousted the Socialists in March 2002, promised to bring life and honor back into the Casa Pia children's homes and allow new director Catalina Pestana to reform the institution. As a result, several senior staff of Casa Pia were fired after the 2002 revelations. However, Pestana told parliament and the media, as late as 2007, that there may still be paedophiles in the Casa Pia system. She also criticised the legal changes made after the start of the trial, which she claims were made in order to help those who were present to court.[6] These controversial legal changes were partially reverted just before the sentence in September 2010.[7]
The Casa Pia abuse scandal has had the effect of raising public awareness of sexual abuse of children. The number of incidents reported to Portuguese police has soared after the scandal has been revealed.[8]
Investigation and trial
[
edit
]
The Casa Pia child sex abuse trial started in 2004. In 2004, as an arguido involved in the trial, Carlos Cruz published a book of personal reflections, Preso 374.[9] The final allegations, formerly scheduled for 20 October 2008 in Lisbon were postponed several times. The country's justice system, often accused of being excruciatingly slow, is believed by some opinion makers such as journalists and Catalina Pestana (former head of Casa Pia), to be vulnerable to external pressures of well-connected personalities and the possibility of corrupting external interference has been considered a real danger, according to those critics.[6] They feared that even if Carlos Silvino (the Casa Pia driver), whose initial trial had been twice postponed, is found guilty, better-connected abusers might go free.[10]
On 3 September 2010, Carlos Cruz (seven years), Carlos Silvino (eighteen years), Hugo Marçal (six years, two months), Manuel Abrantes (five years, nine months), Ferreira Diniz (seven years) and Jorge Ritto (six years, eight months) were convicted on charges of paedophilia and other crimes occurring in the late 1990s and early 2000s.[11] The full ruling, which allegedly runs to nearly 2,000 pages, was due to be released on 8 September 2010.[2] However, it was delayed several times due to a Microsoft Word glitch.[12][13] On 13 September 2010 the full ruling containing the verdict was released. According to chief prosecutor Miguel Matias, the victims were pleased with the outcome.[2] The court ruling was hailed as a victory by those fighting for Casa Pia children's rights in Portugal, such as Pedro Namora, a former pupil at Casa Pia and now a lawyer who publicly supported the victims, and Catalina Pestana, who was head of Casa Pia during the period when some of the cases were made public in the early 2000s.[14]
Two Factions of Globalisation. Barosso and Guterres
Two Factions of UN eugenicist Internationalism. Boris Johnson and Jeremy Corbyn
or are they?
Cummings Bat-Signal.
The Spin doctors of Globalism and Internationalism?
https://dominiccummings.com/2019/11/27/on-the-referendum-34-batsignal-dont-let-corbyn-sturgeon-cheat-a-second-referendum-with-millions-of-foreign-votes/
Cummings the Technocrat?
Who is CUmmings really batting for?
Dominic Cummings, No One Likes Him and He Don't Care! Brino Deplorable, Bad boy and all round Jolly Good Egg. #Brino #ConquestofDough
June 14, 2019
GOING GLOBUL, POLITICAL AND TECH IGNORAMUSES. BAD BOYS OF BREXIT AND THE IDIOCY OF MOLLY SCOTT CATO AND THE PC ACADEMIC LEFT. HEAT IS WORK AND WORK'S A CURSE M: AND ALL THE HEAT IN THE UNIVERSE M: IS GONNA COOL DOWN, M: 'COS IT CAN'T INCREASE M: THEN THERE'LL BE NO MORE WORK M: AND THERE'LL BE PERFECT PEACE D: REALLY? M: YEAH, THAT'S ENTROPY, MAN. #CONQUESTOFDOUGH #BRINONONON
This something of a Notebook Post, for now, The sheer amount of Data and analysis on the Dominic Cummings Blog is a Treasure trove and one really wonders where to start.
Richard North.
Who do you think you are kidding Dr North If you think we're on the Run. #Technocracy #OligarchicalCollectivism
Q172       Chair:  Okay.  Is there anything you want to add, Mr North?  Before you get going, I know that you were due to come before another Committee earlier this year that, for reasons I will not go into, at the very last minute told you were not required. You then said: "[The Committee] has no credibility outside its own circle and is just another symptom of the decay of Parliament as a meaningful institution."
Therefore, once we leave we will once again return to the point where we speak for ourselves and are able to vote for ourselves.  That is a clear advantage.
Brexiter Richard North: WTO "a complete non-starter." https://youtu.be/ImZHIX5ljgg  via @YouTube
Is North Nato controlled opposition? Oceana (NATO) Eurasia (EU MILITARY) The Bankers Man , (how to invade Poland without Tanks)?
See GrubStreetJournal's other Tweets
https://parliamentlive.tv/event/index/edd13153-7ed7-48b3-9643-472e6be0462e?in=14:22:33&out=16:21:45
Richard North.
The Headline of this article is, Would the real Jeremy Corbyn please stand up.
I think Mr Corbyn has actually done that, his position against BRINO is quite clear and that he is a Natural Foe of EU Federal Globalism seems beyond any reasonable doubt.
Corbyn EU Military Frankenstein. Irish Best of 3 https://t.co/dbGtLCmEuw #BitChute

— Wiki_Ballot (@wiki_ballot) November 28, 2019
But what choice is Mr Corbyn really offering, I would argue it is the Guterres UN Agenda 2030/2021 choice, which is a Brand of Globalist/Internationalism which I consider to be Stalinist. From an Establishment perspective I think this makes Mr Corbyn a STalking Horse candidate and Curiously I think that is what Mr Johnson is too although in his case it is for a Corporate State Monopoly Capitalist version of Globalism where again Johnson serves as a Stalking horse, halfway house to the sort of Corporate Feudalism and Mercantilist Laissaez fairre Trotskyist ( Post Fordist world View)
Since this discovery, the Sussex VC has been critiqued for his hypocrisy through tweets, signs at picket lines and protests, and on social media posts.
Some interesting bus stop ads appeared on the streets outside UUK HQ and around several London universities today. #ucustrike
So this Election I am dubbing the Stalking horse Election and other similar types of the election have been the Evil of Two Lessers jamborees we have seen I the States since 92 when Ross Perot was sidelined to keep the NWO Pony Show Alive and Kicking.
The Show Ponies are The David Milliband's, Marco Rubios, and Jeremy Hunts, The Trudeaus and the Macrons the "Brightest and Best" cross-dressing Girly Swots, The Camerons The Cleggs and the Chucka Ummanas.
So its a choice of two Gate Keepers, The B Teams, the stand-ins, the stooges and the not quite there, no there there, but more there than the show ponies and too much there to be completely controlled. The Level of Kompromat on Johnson and Corbyn is clearly not sufficient to keep the Tail wagging the dog with the Two front Runners.
As I said already, I really enjoy the Corbett Report.
HOW THE US USES WAR TO PROTECT THE DOLLAR
Following the support claimed by Extinction Rebellion from Noam Chomsky and David Graeber one re-considered ones own position on a cherished Hero, and in the words of Keynes, when the facts change I change my opinion.
" weeks ago I wrote this comment .

Having Previously Written this a year ago.
This appaling Talk
To a friend who was on the production team of this Garbage
"why was this moron put on for over an hour it takes only two minutes to demonstrate he is a moron."
reply from friend
HahahahahahaI was in the room when they filmed this But fell out with them
Me Again.
08:47The talk is absolute rubbish Ranjan, is the guy ok in real life I think Extinction Rebellion is a fraudulent decoy for sincere concerned people, a state-created dead end if you will. Looking at some of its prominent supporters the Gatekeeping team is emerging with some surprising people, many are useful idiots but there are some surprises like Chomsky and Graeber, it seems that whatever the crisis is that is looming all assets are being employed regardless of keeping their credibility.
On Greta and All that and the guy in the video Roger Hallam .
https://en.wikipedia.org/wiki/Extinction_Rebellion
The final Tell as poker players will tell you there is always something that gives the Bluff away.
With Both Corbyn and Johnson its the CO2 nonsense the Climate Emergency and the Net-zero BS.